CNC Mach3 motion control card MKSX-V
1、Applications
MKSX-V has 2 series:
1. MKS3-V:3 axis motion card.
2. MKS4-V:4 axis motion card.
works with Mach3 CNC system under all windows platform.
---
2、Application overview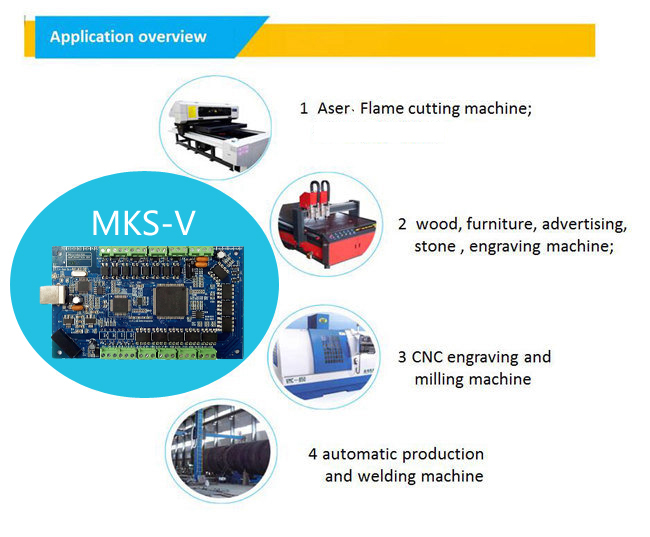 ---
3、Product overview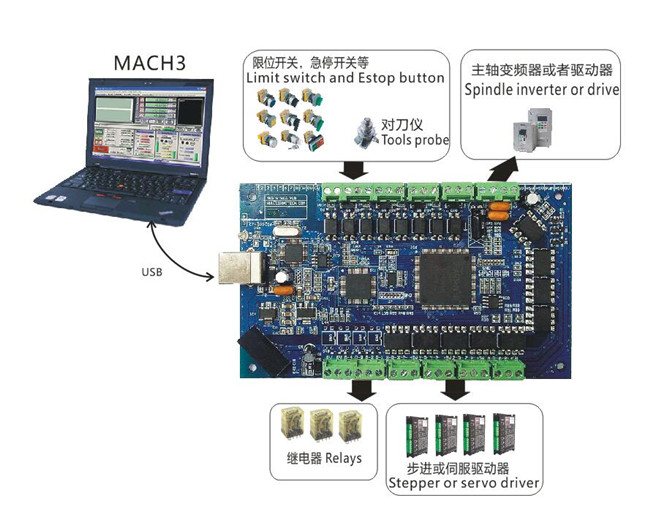 ---
4、Signal connection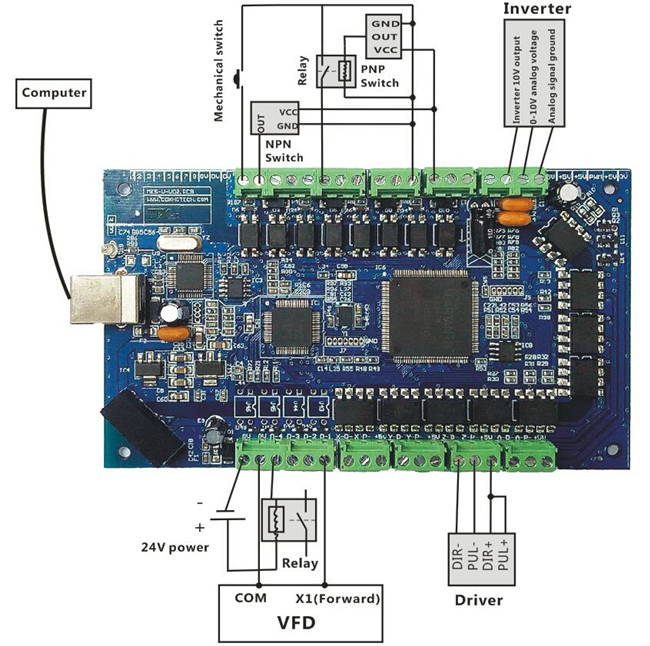 ---
5、Key feature
1. Support power-off resume function.
2.Fully supporting all Mach3 versions
3.Support 1.5 meters USB cable
4.Supports Up 4-axis
5.Maximum step-pulse frequency is 2000KHz
6.Status indicator LED can be useful to show the USB connection, and working status by flashing.
7.8 general-purpose input,4 output
8.all IO-port isolation, interference, stable performance
9.Full support for USB hot-swappable, the card is Monitoring USB connection status at any time.
---

6、General Characteristics
Parameter
Description

Axis drive control:

Isolated oc output
Voltage:5V,maximum load :20A
type
STEP/DIR
Maximum Step frequency
2000KHZ
Number of support axis
MKS3-V:3 axis
MKS4-V:4 axis
Spindle control
Analog output voltage
0-10V
Digital PWM output
5V,1KHZ,fill factor:%1-100%
STEP/DIR
Minimum frequncy:15Hz
Maximum frequncy:4KHz
4 digital output
Maxmimum load of output line
50mA
Maxmimum voltage on out line
25V
8 digital input
Maxmimum load of input line
5mA
maximum voltage on input line
25V
communication method
USB 2.0
---
7、Attachments
| | |
| --- | --- |
| MKSX-V motion card | 1 piece |
| USB cable | 1 piece |
| Driver disk | 1 disk |
| MACH3 trouble shooting | 1 book |
| MACH3 config and driver installation | 1 book |
| MKSX –V user Manual | 1 book |
| Package box size | |
| weigtht | |